What is a Bid Bond in Texas?
A bid bond is one of the types of surety bonds, which guarantees that the bidder will enter into the contract and complete the agreement according to its terms. It provides assurance to the project owner that the bidder has the ability and capability to complete the job once you are selected after the bidding process. The basic reason is that you need one to get the job. However, the larger question is why are more owners/developers requiring a bid bond in the first place? The basic answer is risk. Given the uncertainty of the marketplace, which includes long-term contractors going bankrupt, to municipalities filing bankruptcy (or just slow paying), has led to owners being afraid that their contractors will be unable finish the work. So, they require a some protection.
Just fill out our bond application here and email it to gary@swiftbonds.com - click here to get our Texas Bid Bond Application
A bid bond is issued as part of a bid by a surety bond company to the project owner. The owner is then assures that the winning bidder will take on the contract under the terms at which they bid.
Most bid bonds contain a bid percentage (usually five (5%) or ten (10%) percent, is forfeited if you don't accept the job).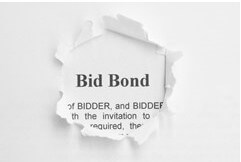 How much does a Bid Bond Cost in Texas?
Swiftbonds does not charge for a surety bid bond (with two exceptions, see below). The reason that we don't charge for a bid bond is that we will charge for the surety performance bond if you win the contract. The cost of a P&P bond can vary widely depending on the amount of coverage that is required (see below).
Two exceptions for bid bond charges:
1) We do charge for Overnight fees
2) We will charge you if there is NOT going to be a performance bond.
How much do bonds cost in TX?
Bond prices fluctuate based on the job size (that is, it's based on the cost of the underlying contract). The cost of a bond is estimated through a couple of back-of-the-envelope calculations. In general, the cost is approximately three percent (3%) for jobs under $800,000 and then the percentage is lower as the contract amount increases. We work diligently to find the lowest premiums possible in the state of Texas. Please call us today at (913) 225-8501. We'll find you the very best rate possible for your maintenance bond or completion bond. Things that can affect this pricing are the perceived risk of the job, the financial position of the entity being bonded, plus other factors.
| | |
| --- | --- |
| Bond Amount Needed | Fee |
| <$800,000 | 2-3% |
| >$800,000<$1,500,00 | 1.5-3% |
| >$1.500,000 | 1-3% |
These rates are for Merit clients, Standard rates are higher
How do I get a Bid Bond in Texas?
We make it easy to get a contract bid bond. Just click here to get our Texas Bid Bond Application. Fill it out and then email it and the Texas bid specs/contract documents to gary@swiftbonds.com or fax to 855-433-4192.
You can also call us at 913-225-8501. We review each application for surety bonds and then submit it to the surety that we believe will provide the best surety bid bond for your contract. We have a excellent success rate in getting our clients bid and P&P bonds at the best rates possible.
What is a Texas Bid Bond?
A bid bond is a bond that assures that you will accept the work if you win the contract. The bid fee (usually five or ten percent) is a damages calculation that is paid when you win the bid, but then refuse the work.
Find a Bid Bond near Me
Typically, a bid bond and payment and performance bond are done together in the same contract by the surety. This way, the owner of the project is assured that the project can be completed pursuant to the terms of the contract and that it will not be liened by any contractor. This is performance security for the owner of the project.
Who Gets the Bond?
The general contractor is the company that gets the bond. It is for the benefit of the owner (or in the case of government contract work, the governmental entity). It's the general contractor that has to apply for the bond and be underwritten before the performance and payment bond is written by the surety. This is also known as bonding a business.
We provide bid, performance and payment bonds in each of the following counties:
Anderson
Andrews
Angelina
Aransas
Archer
Armstrong
Atascosa
Austin
Bailey
Bandera
Bastrop
Baylor
Bee
Bell
Bexar
Blanco
Borden
Bosque
Bowie
Brazoria
Brazos
Brewster
Briscoe
Brooks
Brown
Burleson
Burnet
Caldwell
Calhoun
Callahan
Cameron
Camp
Carson
Cass
Castro
Chambers
Cherokee
Childress
Clay
Cochran
Coke
Coleman
Collin
Collingsworth
Colorado
Comal
Comanche
Concho
Cooke
Coryell
Cottle
Crane
Crockett
Crosby
Culberson
Dallam
Dallas
Dawson
Deaf Smith
Delta
Denton
DeWitt
Dickens
Dimmit
Donley
Duval
Eastland
Ector
Edwards
Ellis
El Paso
Erath
Falls
Fannin
Fayette
Fisher
Floyd
Foard
Fort Bend
Franklin
Freestone
Frio
Gaines
Galveston
Garza
Gillespie
Glasscock
Goliad
Gonzales
Gray
Grayson
Gregg
Grimes
Guadalupe
Hale
Hall
Hamilton
Hansford
Hardeman
Hardin
Harris
Harrison
Hartley
Haskell
Hays
Hemphill
Henderson
Hidalgo
Hill
Hockley
Hood
Hopkins
Houston
Howard
Hudspeth
Hunt
Hutchinson
Irion
Jack
Jackson
Jasper
Jeff Davis
Jefferson
Jim Hogg
Jim Wells
Johnson
Jones
Karnes
Kaufman
Kendall
Kenedy
Kent
Kerr
Kimble
King
Kinney
Kleberg
Knox
Lamar
Lamb
Lampasas
La Salle
Lavaca
Lee
Leon
Liberty
Limestone
Lipscomb
Live Oak
Llano
Loving
Lubbock
Lynn
McCulloch
McLennan
McMullen
Madison
Marion
Martin
Mason
Matagorda
Maverick
Medina
Menard
Midland
Milam
Mills
Mitchell
Montague
Montgomery
Moore
Morris
Motley
Nacogdoches
Navarro
Newton
Nolan
Nueces
Ochiltree
Oldham
Orange
Palo Pinto
Panola
Parker
Parmer
Pecos
Polk
Potter
Presidio
Rains
Randall
Reagan
Real
Red River
Reeves
Refugio
Roberts
Robertson
Rockwall
Runnels
Rusk
Sabine
San Augustine
San Jacinto
San Patricio
San Saba
Schleicher
Scurry
Shackelford
Shelby
Sherman
Smith
Somervell
Starr
Stephens
Sterling
Stonewall
Sutton
Swisher
Tarrant
Taylor
Terrell
Terry
Throckmorton
Titus
Tom Green
Travis
Trinity
Tyler
Upshur
Upton
Uvalde
Val Verde
Van Zandt
Victoria
Walker
Waller
Ward
Washington
Webb
Wharton
Wheeler
Wichita
Wilbarger
Willacy
Williamson
Wilson
Winkler
Wise
Wood
Yoakum
Young
Zapata
Zavala
And Cities:
Houston
Dallas
Austin
San Antonio
Forth Worth
El Paso
Arlington
Waco
Corpus Christi
Lubbock
College Station
See our Utah Bid Bond page here.
More on Surety Bid Bonds https://swiftbonds.com/bid-bond/.
Key Particulars When Looking At Bid Bonds
You need to understand that a Surety Bid Bond is really important for anybody, but it's complicated if you do not know anything about this. This isn't an insurance claim since this is a type of assurance that the principal will properly complete the task. You have to know that some people will need you to get a certain bond before they actually go for your services since it will probably be a type of assurance to them. Because they need this type of thing from you, it's going to be very important to search for an insurance company which could offer this to you. If you want to look for a license bond, permit bond, commercial bond and more, you have to understand what this signifies.
An Explanation On Bid Bonds
Bid Bonds will actually be asked for by the public since it may protect them and it'll guarantee that the principal would fulfill their duties. As the principal, you need to get a license Surety Bid Bond to guarantee that your company will adhere to the laws and you need a contract bond to make sure that a public construction project will be completed. These are only a few examples which will offer you an idea about Bid Bonds.
This is actually made for the consumers as they are protected by the bond, but it will benefit you as well as they will trust you in case you have a Surety Bid Bond.
How Does It Work?
Bid Bonds are a three-party agreement between a surety company, the principal and the obliged. The principal is the employer or company that will perform the work while the obliged is the project owner.
Construction businesses are asked for by the law to acquire Bid Bonds once they are picked for a public project. Once the government demands a construction company to do something, the winning contractor should obtain a host of bonds.
The bond will assure that the subcontractors and the other workers will likely be paid even when the contractor defaults. The contractor would be responsible in addressing the losses, but as soon as they reached the limit, the duty will fall to the surety company.The contractor will handle the losses, but as soon as they actually reached the limit, the duty will definitely fall to the surety company.
The Application For A Surety Bid Bond
Bid Bonds are usually provided by insurance companies, but you may always seek out standalone surety organizations that would concentrate on these unique products. It will not be simple to apply for a bond as the applicant will have to experience a strict process that is comparable to applying for a loan. The bond underwriters will assess the financial history of the applicant, their credit profile and other important aspects to be sure that they should be approved. It also means that there's a chance that you will be denied for a Surety Bid Bond, especially when the underwriters found something negative on the credit history.
The Cost Of A Surety Bid Bond
There isn't any set cost for a Surety Bid Bond because it depends upon various reasons like bond type, bond amount, where the bond will be issued, contractual risk, the credit score of the applicant and a lot more.
There are plenty of bonds available right now and the cost will always depend upon the type of bond that you'll get. The amount of bond that you are going to get may also be a factor because you can obtain a $10,000 bond or a $25,000 bond.
In case you have a credit score of above or near 700, you will qualify for the standard bonding market and you'll only pay a premium that is 1 to 4 percent of the Surety Bid Bond amount. If you could get a $10,000 bond, it will cost around $100 to $400.
Your Application Might Be Rejected
There is actually a chance that your license and permit bond request will likely be denied by the surety company since it will usually depend upon the info that they can get from the background check. If the surety company believes that it will likely be a risk for them to provide a Surety Bid Bond to you, they will deny your application. You credit history will really be an important factor if you'd like to be accepted for a Surety Bid Bond because if your credit score is bad, it will be tough to be accepted.
If you'll get a Surety Bid Bond even if your credit rating is bad, you will pay an interest rate of 10 to 20 percent.
If you're going to get a Surety Bid Bond, you have to be sure that you what it could provide. It won't be an easy task to be approved for this, but if you understand how it works, you'll also know if you're qualified or not.
The post Texas Bid Bonds appeared first on Surety, Contract, Payment, and Performance Bonds.
via Blogger
Texas Bid Bonds